Warning – not for eyes under 12 years old – significant Christmas and Santa secrets revealed.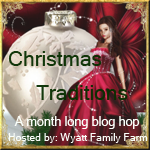 Food
Have you ever noticed how many traditions revolve around food?
I started thinking about this because I joined Tiffany's Christmas blog hop over on Wyatt Family Farm.  (Go here to sign up too!)
Our Christmas Traditions involve eating:
Egg and bread casserole with a danish on Christmas morning.
Standing rib roast (prime rib) with baked potatoes and broccoli for dinner.
Busch de Noel for dessert.
Copious amounts of wine and spiked (or not) eggnog also abound for the entire week.
I just don't know that it would be Christmas if we didn't have these specific foods.  Of course, I do know that it would in fact still be Christmas, but you get my drift.
Shopping


In the week prior to Christmas, my parents fly in from Florida and we do a mad dash around town for 2 days getting their presents for everyone and finishing up last minute purchases of our own.  This is when we get the stocking stuffers also – which are mandated to have (for adult women):
a tube of mascara,
spatulas,
nail files,
nail polish,
chap stick,
ugly socks,
and assorted other knick knacks that would fill at least 4 normal sized stockings.  (We have gone to using shopping bags to hold the spill overs.)
Men's stockings must have:
bungee cords,
batteries,
duct tape,
chap stick,
and assorted other "manly" things.
Shopping involves leaving the house around 10:30, hitting one store and then needing to bolster our flagging energy (yes, we are wimps) with lunch.   Lunch is at Chili's where my mom orders a salad with a glass of white wine and I get the Presidente Margarita.  Following lunch we head to Target.   We MUST go to Target – well, because they have Starbucks of course – and we need the caffeine to counterbalance the wine and margarita from lunch.  It's a vicious cycle, but someone has to do it.
Unique to Us
Can it be a tradition if I started it?  Or do activities have to span generations before they can legitimately be dubbed traditions?
Regardless, we do have two items that are a little out of the norm, although I bet we're not the only families that do these.
1.  We have a pickle ornament on our Christmas tree that I hide every Christmas Eve.  The first kid to find it on Christmas morning gets the "pickle" present.  When I was a teenager and my parents started this, the gift was an Outback gift certificate.    These days with little kids, it's usually a DS game or movie.    We have chosen not to add the Santa condom onto the pickle ornament that my parents have in their tree.  Yes, I have THOSE parents.  Any wonder why I am the way I am?
2.  We have a Scavenger Hunt.  It was an idea in Parenting magazine or Family Fun a few years back.  I LOVE this tradition.  I use index cards to create a series of clues that take the kids all over the house searching for a present.  The quantity of clues varies from about 10 to 15 or so and the first clue is hung on the Christmas tree to start the kids off.   I love that this extends the present opening time, that the kids get such a kick out of the search and that they get to burn some of that out of control energy that's built up and ready to pour out of them.  Even our littlest one (nearly 2 last year) went on a hunt with us reading her cards to her.   Hint:  the microwave, under their beds, and the dog food bag are excellent final destinations to find those presents!

What about  you?  Any great traditions that we should consider adopting?